Harbour Lights - By Day
We're bringing you the dreamiest beach day ever; filled with seaside sips, salty dips, turtles swimming in the deep blue, plus cocktails and food to power you through. Come prepared to unleash your inner islander and live it up, island style. Oh yes, this must be the place!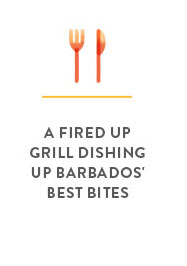 Our beautiful island is home to three species of turtles: The Hawksbill, Green Turtle and Leatherback turtle. They're the protectors of our coral reef, and for just $30USD per person you can explore their enchanting world. Snorkel to the depths of the marine and see where they play. Feast your eyes on ancient shipwrecks, colourful coral and fascinating fish, all waiting to be discovered.
Our grill serves up some of the most mouth-watering Barbadian and Caribbean flavours that will leave you longing for more! Try our Jerk Chicken - it's a crowd favourite, with well-seasoned breast meat that's soft and succulent. Our Catch of the Day is caught fresh and grilled to perfection, served with a house salad or your choice of fries. But, it would be remiss of us to not mention our renowned Harbour Lights Burger! This juicy burger is full of flavour and so good, you'll want to order another.
You're here for just a few hours so there's no time to waste ya'll! Good thing is, we're only a 10 minute drive from the bustling Bridgetown Port, and for only $5USD you can grab a taxi straight to us. Just let them know that Harbour Lights is the place to be!